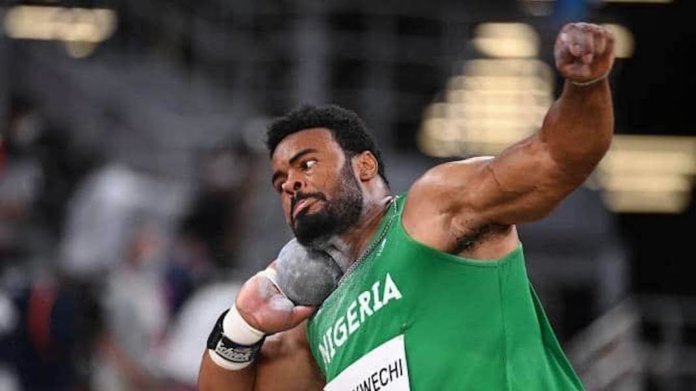 Nigeria's prospect for a gold medal is on the horizon again as Chukwuebuka Enekwechi has advanced to the final of the men's shot put final at the ongoing Tokyo 2020 Olympics.
This feat by a member of Team Nigeria is a follow up to Blessing Oborududu's final game-match in wrestling event which she eventually lost to American Tamyra Mensah Stock to settle but for the silver medal of the 68kg category.
Enekwechi is ranked seventh after launching his implement to a mark of 21.16m on the Men's Shot Put Qualification table.
The Nigerian secured a non-automatic qualifying spot for the final after clinching fourth position in Group B.
He was ranked below Egypt's Mostafa Amr, who had a throw of 21:23m.
Others who qualified for final are USA's Crouser Ryan with 22.05metres mark, New Zealand's Walsh Tomas – 21.49m, Bosnia and Herzegovina's Mesud Pezer – 21.33m, Brazil's Romani Darlan – 21.31m (SB), and Italy's Weir Zane – 21.25m (PB).
Others who advanced to final with a non-automatic qualifying spot are Armin Sinancevic of Serbia, Kovac Joe and Peyton Otterdahl of the United States, Kyle Blingnaut of South Africa, and New Zealand's Gill Jacko.
Enekwechi is the 2018 Commonwealth Games Silver medallist and reigning African champion in shot put.
He is also the 2019 African Games champion and the reigning Nigerian National Sports Festival champion.
Currently a volunteer assistant coach with the Boilermakers, Enekwechi is a 12-time All-American, five-time NCAA medalist and four-time Big Ten champion at Purdue.